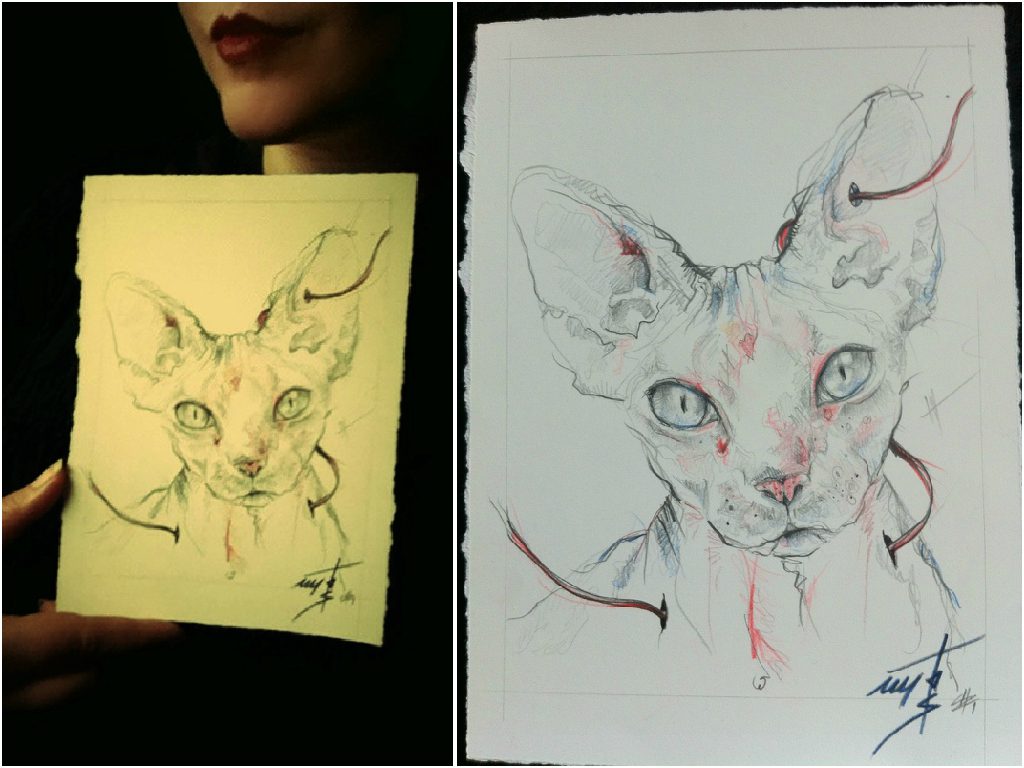 ♥ Me & my sphynx cat drawing by Beatriz Mutelet/Thoughts of Shades ♥
*
Todays´Spotlight: Thoughts of Shades
I´ve recently received my original drawing showing a Sphynx Cat by french artist Beatriz Mutelet (Thoughts of Shades) and just LOVE it!
Find more information about the artist and her work here:
All photos (except the first one) © Beatriz Mutelet
Faszinierend schöne Skizzen und Zeichnungen, mit teilweise leicht verstörenden Details von Beatriz Mutelet aus Lyon/ Frankreich. Die Arbeiten der Künstlerin entstehen hauptsächlich mit Graphitstiften und Tinte, ergänzt durch Farbakzente mit Aquarellfarben. Darüber hinaus finden sich hier und da ergänzende Details aus Blattgold. Beatriz selbst beschreibt auf ihrer Website den Enstehungsprozess ihrer Werke als Kreation einer traumartigen Parallelwelt, die von mysteriösen Wesen bevölkert ist – und traumhaft ist auch ein schönes Abschlusswort, beschreibt es den Eindruck den ihre Bilder auf mich machen doch perfekt.
Ihre Arbeiten findet ihr wenn ihr die Links unter dem ersten Bild anklickt 🙂
Habt einen schönen Feiertag morgen!
Eure Rohmy